Once you've kitted yourself out with the best laptop for graphic design how do you go about making it stand out? Steer clear of dodgy event stickers and pick yourself up a unique MacBook decal. 
Ranging from the quirky to the cool, most of these MacBook decals incorporate the famous Apple logo design (although it might not be obvious at first sight), and enable you to express your personality through your MacBook, whatever your creative specialism. For more workspace customisation ideas, check out our post of the best office stationery.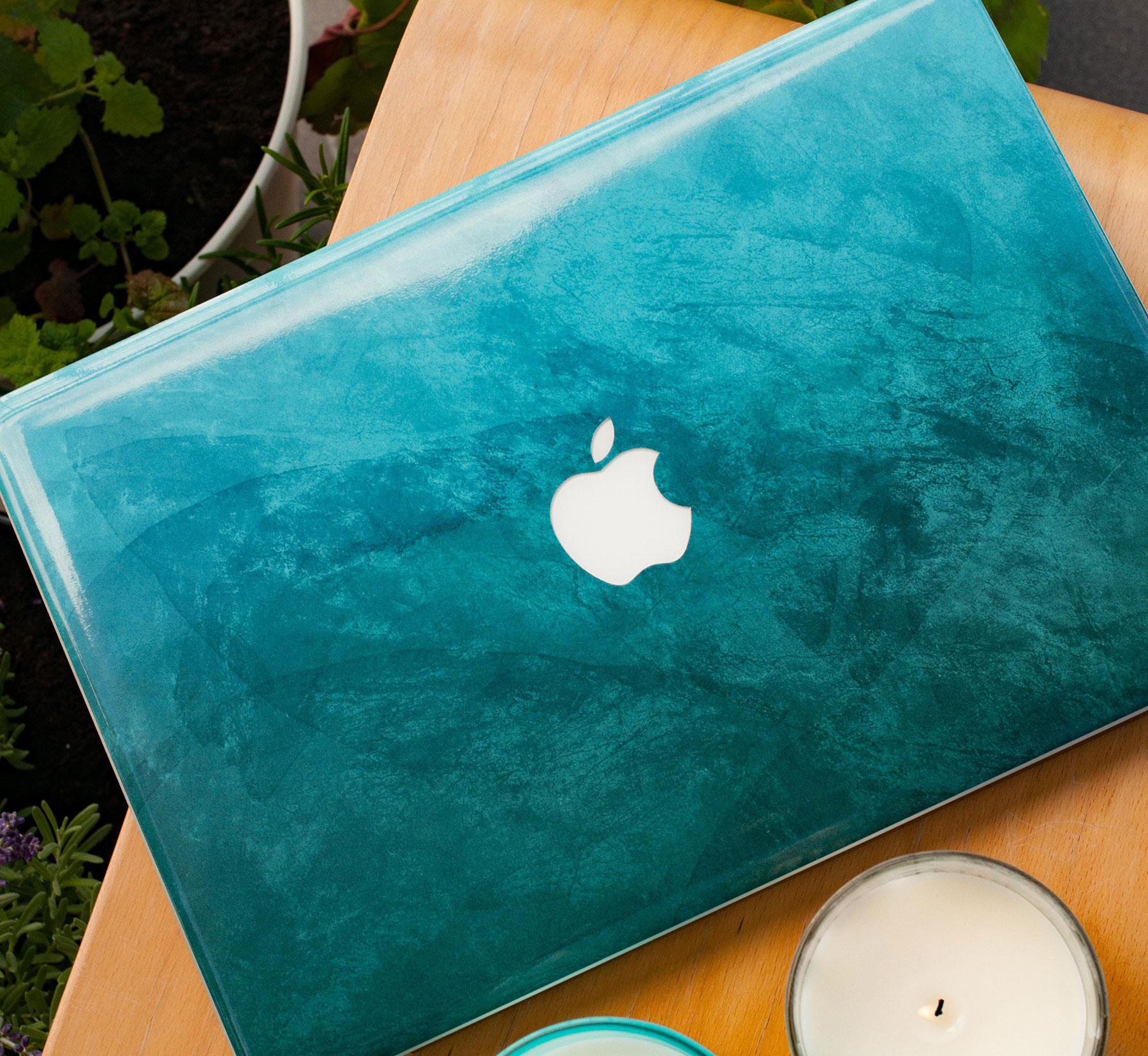 This glossy petroleum blue MacBook decal is a stylish way to add some colour to your laptop. It's available for a number of different sizes MacBooks, and you can choose whether you want the Apple logo cut out or not. There are also keyboard and underside stickers available, depending on the look you want to go for.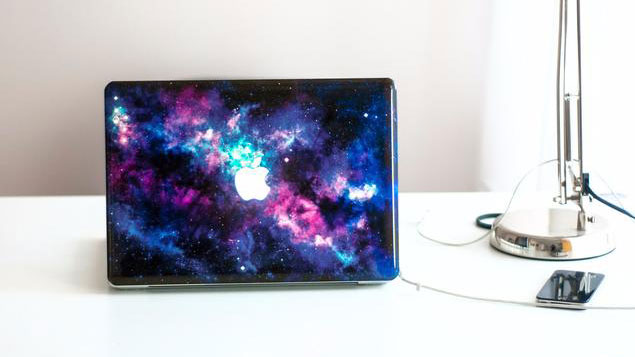 A gentle reminder that there is nothing quite as vast and spectacular as the galaxy, not even the internet! This stardust design is available as a skin for every single part of your MacBook – even the trackpad.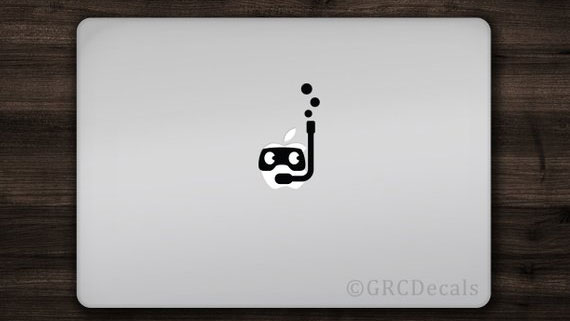 Etsy seller GRCDecals creates stickers that transform your MacBook's Apple logo into something completely different. There's everything from a zombie hand to an Android logo on offer, but our favourite is the fun decal that turns the Apple logo into a scuba diver. It's also available in a range of colours.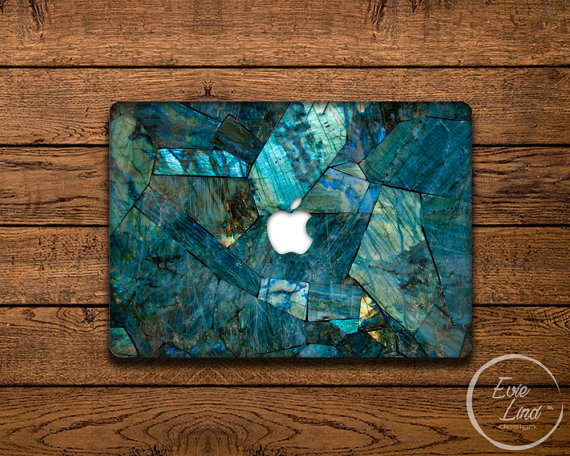 This stunning decal resembles the beautiful light reflecting surfaces of Labradorite, a stone known for it's magical properties and unique mix of colours. Turn your man-made tech into a natural wonder!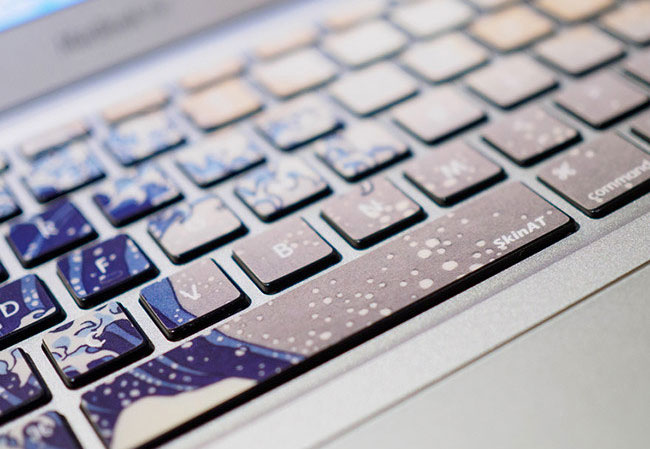 Decals aren't just for cases. Who can resist turning their keyboard into a reproduction of Hokusai's 'The Great Wave off Kanagawa'? Anyone with not especially steady hands, we reckon; this looks fiddly with plenty of potential for disaster. But it'll look amazing if you pull it off.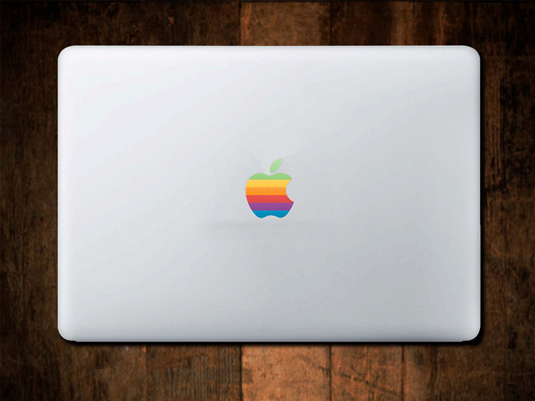 If you're a fan of retro design, then you'll love this replica of the rainbow Apple logo used by the company in the mid-70s to the late-90s. Simply place over the current Apple logo on your Mac, power up and watch the colours light up!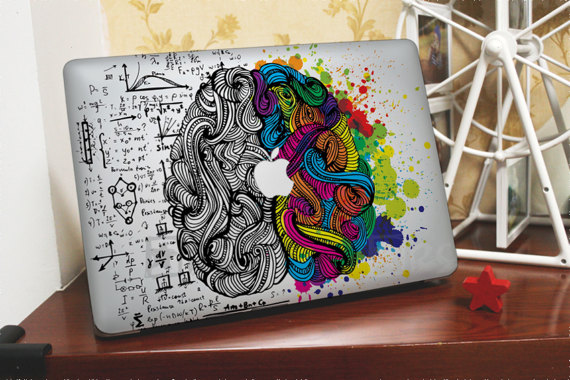 This MacBook decal features a lovely illustrative interpretation of the two halves of the brain. The right hand side of the brain is said to be creative, while the left is logical and analytical – ideal for designers who have to use both sides in their work.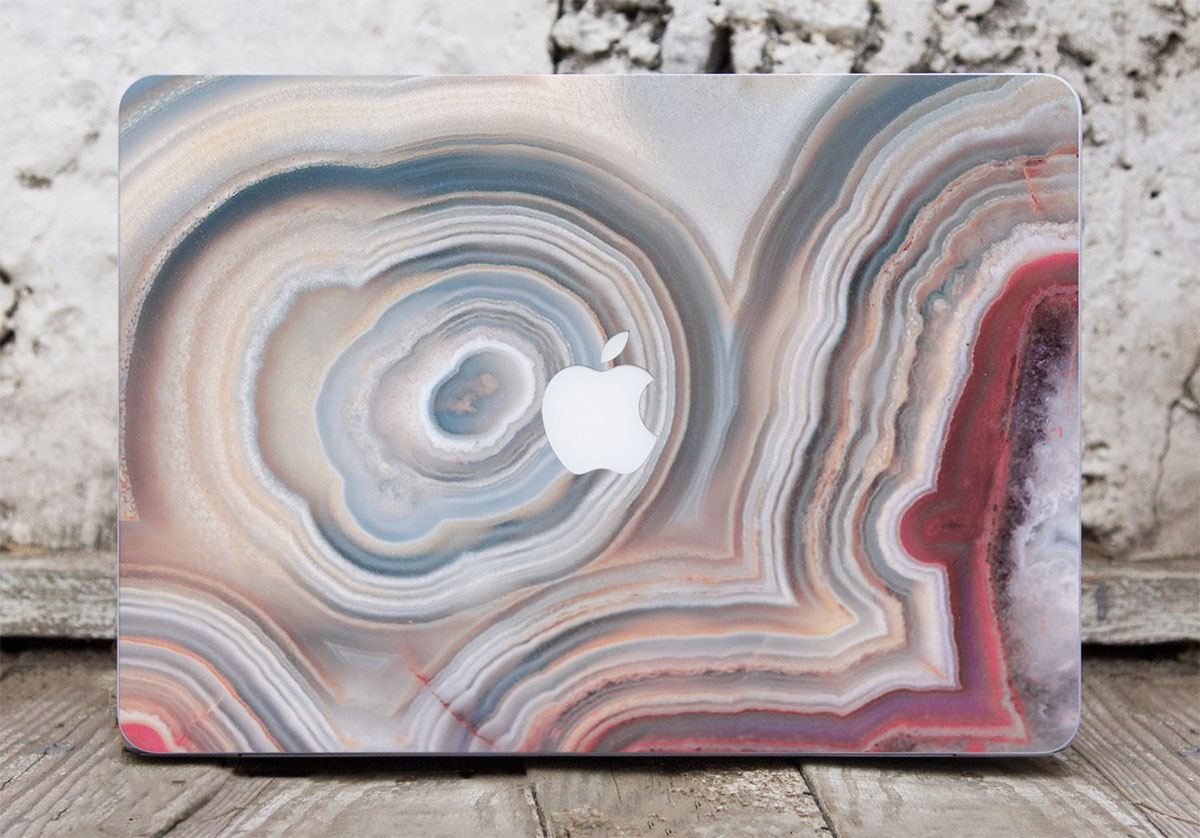 366skins offers quite a selection of marble-style MacBook decals; this particularly vibrant example dominated by colourful banding is our favourite by far. This decal is high quality matte vinyl and is completely waterproof and oil-proof (although your MacBook probably won't thank you if you spill your drink on it).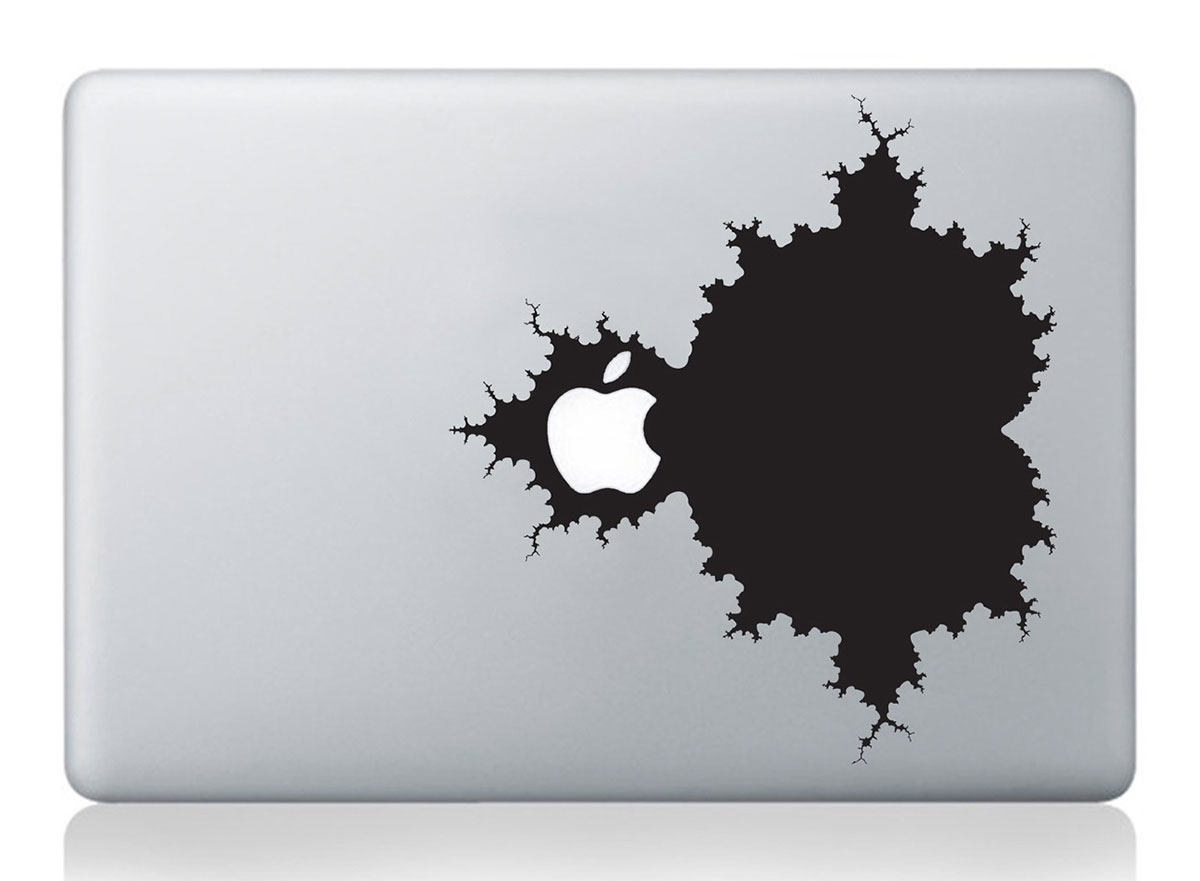 Give your MacBook a sophisticated fractal touch without going full psychedelic nightmare. This simple silhouette of the classic Mandelbrot set is suitable for 13- and 15-inch MacBooks, and the matte vinyl is a nice touch.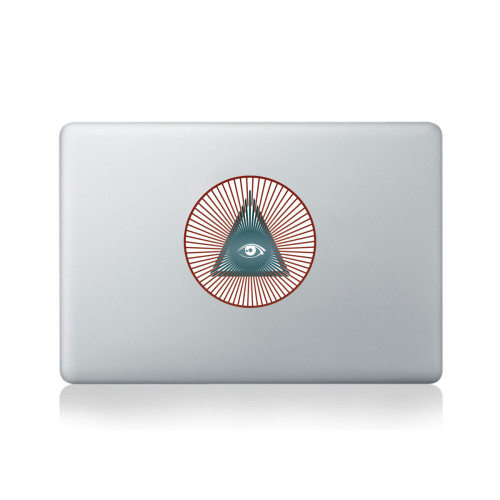 Make yourself look mysterious on trains with this little decal that replaces your apple with an all-seeing eye. It fits a range of MacBook models, and can be peeled off when you decide you want a different look.
Next page: 10 more cool MacBook decals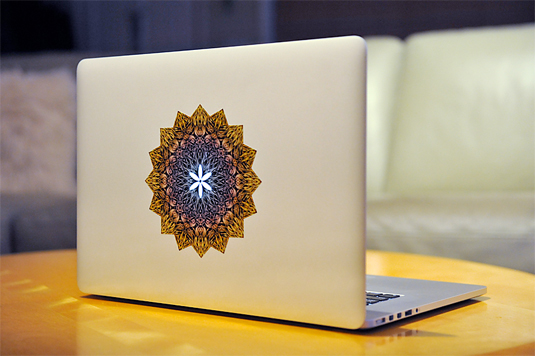 Sacred Geometry Stickers (previously iCoverMyApple) is run by photographer Heather and husband, multimedia artist Shane. They decided they wanted to enhance and personalise their things, so created a line of stickers for people who "appreciate art and celebrate their own personal style". All their designs are inspired by nature.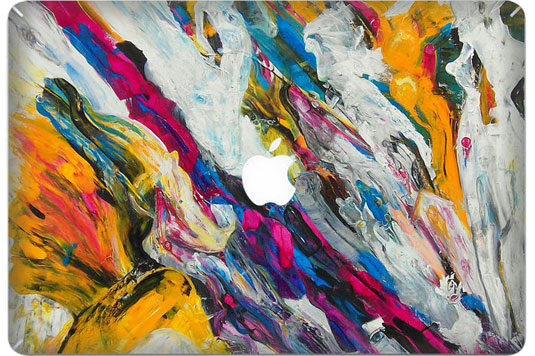 Add a splash of colour to your desk with this brilliant oil painting MacBook decal design. It will no doubt get those creative juices flowing and inspire you to add more colour to your work.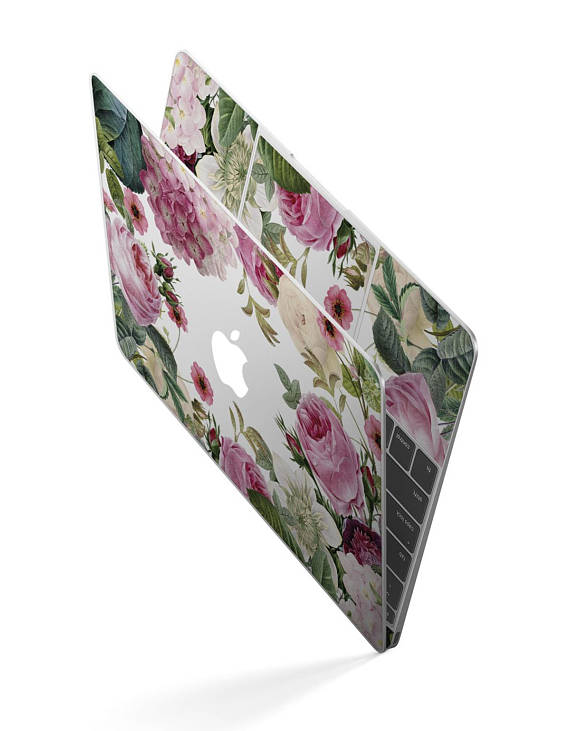 Macs might be one of the most high-tech commercial gadgets, but even they can benefit from a touch of the natural world. This delicate floral MacBook decal is ideal for green-fingered designers.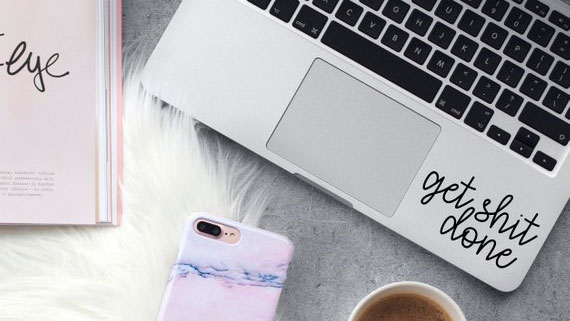 Lacking in motivation? Prone to procrastination? Get a (kind of) motivational quote directly in front of you with this vinyl MacBook decal. We like that this sticker sits inside your laptop, so it'll still look professional from the outside.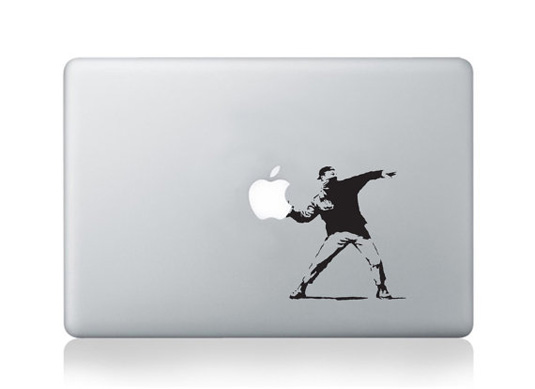 Did you manage to visit Dismaland? Or maybe you've got a copy of Wall and Piece on your coffee table. Either way, this decal is perfect for fans of the subversive, counter-culture graffiti artist, Banksy.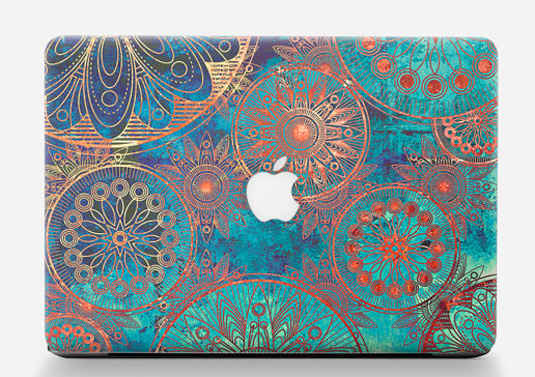 Channel your spiritual self with this beautifully worn MacBook decal. Decorated with intricate mandala-style imagery, this cover is finished off with a gorgeous turquoise and metallic colour scheme to give your laptop an ethereal touch.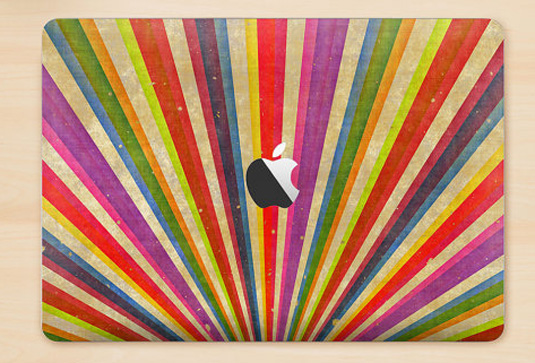 Here's a decal that will get you noticed. Inject some much-need rays of colour with this MacBook decal design. Full of a wondrous array of shades, this will brighten up any day.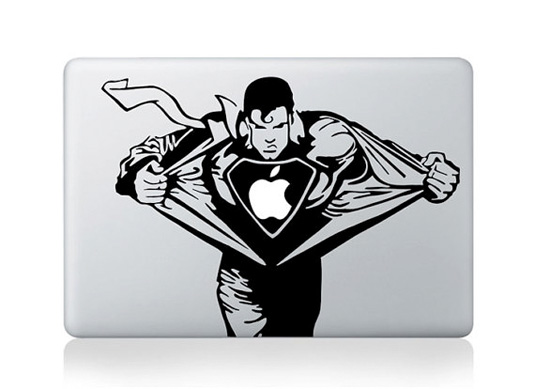 This MacBook decal is a must-have for any Clark Kent fan. Whichever interpretation of the Kryptonian superhero you prefer, this decal is the perfect accompaniment to your obsession. It's available in a range of sizes to fit different MacBooks and ensure the Apple logo lines up perfectly with Superman's chest shield.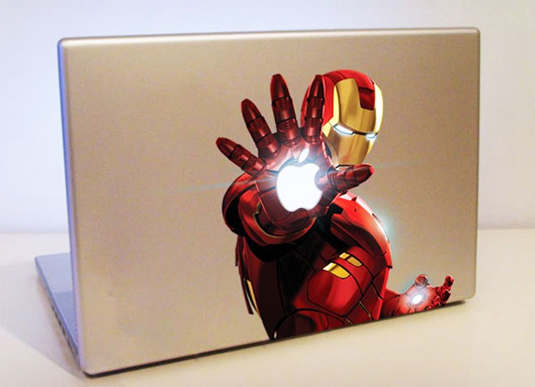 The clever design of this awesome Iron Man MacBook decal incorporates the famous Apple logo as the superhero's deadly arm blaster. If you have a dark-coloured MacBook (pink or Space Grey), select the 'white backing' option to make sure your design is displayed to its best.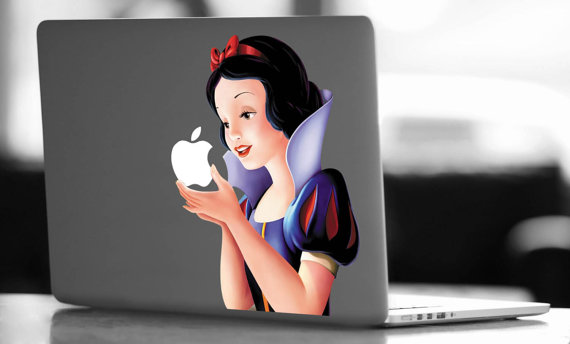 An oldie, but a goodie, featuring Snow White. This decal cleverly turns your Mac's apple into the poisoned fruit that sends the classic Disney princess into a coma, to be awoken only by her true love's kiss. 
Related articles: